Branson, Missouri is known as one of the best vacation destinations in the country.  And it's easy to understand why. Just drive down the iconic 'strip' also known as 76 Country Music Blvd; theatres, attractions, museums, aquariums, and shopping destinations galore, line this famous road, while just a stone's throw away the shores of several gorgeous lakes beckon visitors to experience the beautiful Ozark Mountains from the water.
Families from all over the United States come to Branson to get away from it all, and each season in the Ozarks is like a whole new vacation. In the spring the hills are covered in beautiful green leaves and flowers, in the summer the cool lake waters refresh, and in the fall the trees burst into brilliant color.  Even during the Holidays, Branson has a little something for everyone, from miles of colorful lights, to Christmas themed shows and events, there's always fun and excitement to be had in Branson.
If you're looking for the top Branson Missouri attractions, you've come to the right place! The following list is a great starting point the next time you bring your family to Branson for a getaway!
Silver Dollar City is an 1800's style amusement park in Branson, just a few miles down Hwy 76, and nestled in the wooded hills overlooking the city.  It features over forty rides, attractions, shows and live concerts.  Craftsmen wander the streets demonstrating crafts based in Americana heritage. Delicious homemade goodies line the shelves of amazingly themed shops and restaurants, and some of the most thrilling roller coasters in the nation delight the tens of thousands of visitors who flock to the park every year.
At Christmas time, the park is illuminated by over 6.5 million lights, which makes Silver Dollar City one of the top Christmas time attractions in the Midwest. With a little something for everyone, Silver Dollar city is more than just a theme park.  It's definitely at the top of any list of Branson Missouri attractions, no matter what time of year you visit!
Designed, built and maintained by the Army Corps of Engineers, Table Rock Lake was named for a rock formation on its shores that resembles…you guessed it, a table!  The lake itself draws thousands of outdoor enthusiasts every year,  who flock to its beautiful shores for boating, fishing, camping and dinner cruises aboard the Showboat Branson Belle.  Table Rock State Park offers beautiful campsites, a marina and excellent hiking and biking trails, while Table Rock Dam, also maintained by the Corps of Engineers is a must see, as well as the fish hatchery at its feet, operated by the Missouri Department of Conservation. Many visitors to Branson fall in love with the lake, and end up buying vacation homes and condos on the water.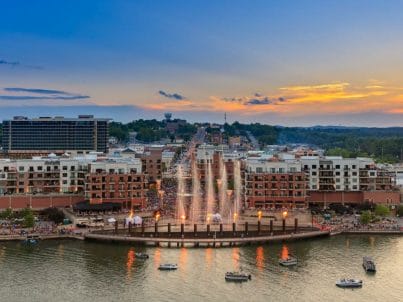 If shopping is your thing, a visit to 'The Landing" is a must do Branson activity.  Branson Landing is a lakeside shopping district, with over one hundred specialty restaurants and shops on the banks of Lake Taneycomo.  This all pedestrian shopping district is a great place for the whole family to explore and even includes a town square with a huge water fountain and fire show set to music, right in the heart of the action. Anchored by Bass Pro Shops at one end, Branson Landing has many upscale fashion stores, gift shops, candy and toy shops and attractions for the whole family. 
Everyone knows that Branson is famous for shows, and there are dozens of amazing options to choose from, but one of the perennial favorites of locals and visitors alike is Dolly Parton's Stampede.  Dubbed "Branson's most fun place to eat" Dolly Parton's Stampede transports visitors back to an earlier time in America when Southern Belles, cookouts and magnificent horses were an everyday part of life. 
The dinner show takes place in a huge arena where thirty-two horses and a cast of amazing trick riders perform a friendly competition with audience participation.  The dinner is delicious and features four courses that you eat with your hands!  A pre-show act happens before the main event with fun drinks and snacks.  Pro tip, buy the vegetable soup mix after the show in the gift shop. It tastes exactly like the soup during the show, and everyone loves it!
Anyone who loves history, (or movies) should experience the Titanic Museum in Branson at least once in their lives.  This museum attraction is definitely on the 'must do activities' in Branson list. It's impossible to miss if you're driving down the strip; just look for the huge steamship looming against the Ozark hills.  The owner of the museum jointly led a 6 million dollar expedition to the actual shipwreck site of the Titanic, spending forty-four days at sea and diving to the Titanic over thirty-two times, to cultivate a collection of Titanic artifacts that are simply breathtaking.  
The Titanic Museum is considered by its curators to be a living museum, where each visitor receives a boarding pass that takes them back in time as one of Titanic's original passengers.  Touch an iceberg, see hundreds of artifacts, and even stroll down the grand staircase, by the end of the tour you'll feel like you were really there the fateful night Titanic sank to her watery grave.  Special holiday celebrations are held throughout the year and the experience is not only educational, but wildly entertaining and fun for all ages. 
Ready To Take the Leap?
Branson, Missouri is not only an amazing place to vacation, but an even better destination to invest in a second home.  The must-do activities in Branson are endless, and if you really want to experience them all, you'll need to come back time and time again.  When you're ready to take the leap, we will be here to help take care of your investment. Your vacation home investment is secure with Lake Home Help on your side. Let us be your eyes, when you're far from your second home.
Lake Home Help can ease your mind with the knowledge that your Table Rock Lake home, or Branson vacation home, is safe and sound while you're away. 
Owning a vacation home shouldn't mean worrying about maintenance when you can't be there.  With Lake Home Help and our licensed and insured team, you'll be assured your investment will remain secure for years to come.
Find the perfect Table Rock Lake, or Branson Vacation home today, and call us tomorrow to help protect it!